Call 01260 279411
Siemens 1FT7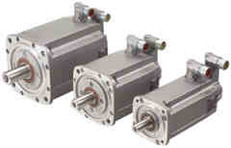 The new, compact synchronous motors for high-performance applications
The 1FT7 motors are new permanent-magnet synchronous motors with very compact dimensions and an attractive design. Quick and easy installation of the motors is possible because of the proven cross profile.

The 1FT7 motors satisfy the highest demands on the dynamic response, speed setting range including field weakening, radial eccentricity and positioning accuracy. They are equipped with the latest encoder technology and optimized for operation on our completely digital drive and control systems.
1FT7 synchronous motors - for high-performance motion control applications
Quadruple overload capability over a large speed range

Very high surface quality on the workpiece through high radial eccentricity and very low torque ripple

Easy to service and install through rotatable connectors, cross profile, electronic type plate and simple on-site encoder replacement without adjustment

1FT7 synchronous motors - overview of the product range
In the first version, the 1FT7 motors are available as natural cooled motors with:
shaft heights from 48 to 100

rated speed 1500 to 6000 rpm

rated power 0.85kW to 10.5kW

static torque 3 to 70 Nm

1FT7 synchronous motors - typical areas of application

High-performance motion control and positioning applications in production machines, such as packaging machines, textile machines, foil drawing machines, printing machines as well as in conveyor technology and in handling devices. Feed drives in high-performance machine tools.
The Siemens CAD Creator can be used to create CAD models in 2D and 3D format.