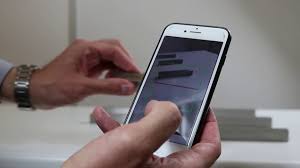 ATLANTA GMBH have launched their ATLANTA4Customer mobile app as part of their new range of Industry 4.0 product developments, providing machine builders with performance and productivity improvements.

All racks produced at the factory in Germany will be measured for pitch deviation, individually marked with a 2D data matrix code with their individual data stored the cloud. Using the ATLANTA4Customer app, customers will be able to scan a rack and look up the production and product information. It is then possible to request a clone piece of rack to replace a current piece within their machine.
Customers would also be able to scan a series of racks and then the app would tell them in what order to mount them to achieve the lowest possible pitch error. This also allows the possibility for ATLANTA GMBH to select rack from their stock to a customer's specific requirements.
ATLANTA GMBH hope to roll this out in the future for gearboxes, motor flanges could be fitted with sensors to measure temperature, vibration, speed and displacement. This would help monitor the gearbox and motor to ensure they are working to required performance.
Find out more about the app by watching this video