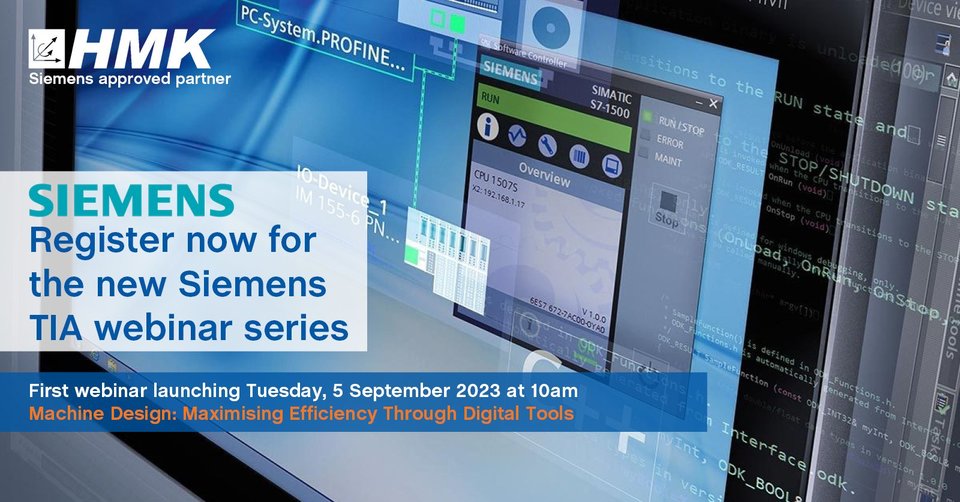 Siemens is launching a new TIA Portal monthly webinar series for the UK and Ireland.
HMK has been a Siemens partner for more than 30 years, and our customers won't want to miss this opportunity to get to grips with the engineering framework in this free, monthly webinar series.
Join Siemens to experience a deep dive knowledge share on each of the topics showcasing how Totally Integrated Automation (TIA) can bring benefits to your business through standardisation, efficient engineering processes, integrating OT-IT and making best use of your machine data throughout the whole project lifecycle, from specification and design through to engineering and operation.
The first sessions will cover the following topics, with even more to be announced soon:
Machine Design: Maximising Efficiency Through Digital Tools
5 September 2023 10:00am

Machine Design: Building Blocks of Totally Integrated Automation
10 October 2023 10:00am

Machine Integration: Ensuring Safety & Communications Compatibility
7 November 2023 10:00am

Special TIA Portal Event - To be confirmed
12 December 2023 10:00am

Machine Integration: Communications to High Level Systems
16 January 2024 10:00am

Machine Operation: Visualisation & Data Capture
13 February 2024 10:00am

Machine Operation: Turn Your Data into Information
12 March 2024 10:00am
Register now to secure your place using this link.