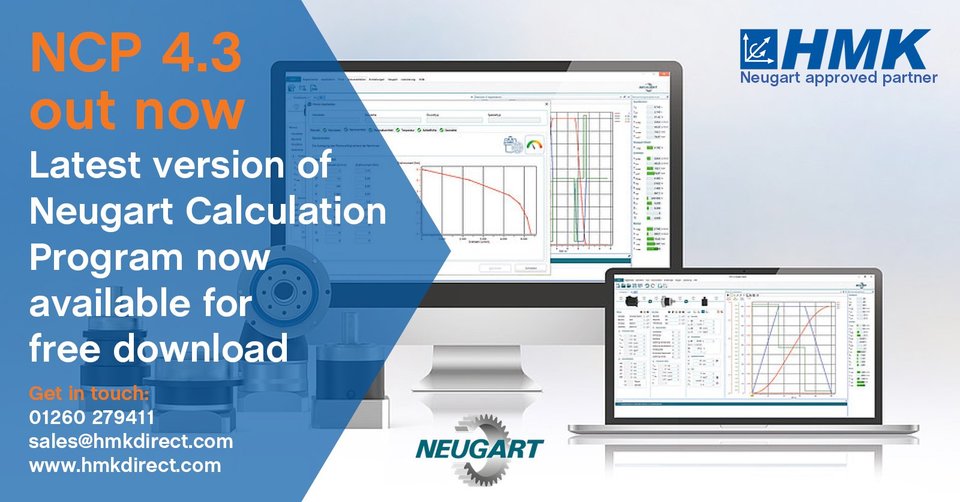 The latest release of Neugart's calculating software - Neugart Calculation Program (NCP) – is out now offering a range of new features and performance enhancements.
Neugart are a market-leading manufacturer of servo planetary gearboxes and their configuration tool NCP makes it quick and simple to find the perfect gearbox/motor combination.
NCP 4.3 is now available for free download.
Key highlights of version 4.3 include:
The motor database has been completely reworked and NCP can now design motors based on their characteristic curve, making the designs more accurate.


The import of tracked motor data is now easier and takes into account the losses of motor and gearbox.


Improved multi-core usage of the processor with many additional features and optimizations, including better comparisons and rack-and-pinion drives.


An expanded database with over 18,000 different motors now available. Choices include not only servo motors, but also stepper motors.


All Neugart wheels suitable for use with NGV gearboxes are now included for traction drive applications.


The comparison between theoretical design and actual data has become even easier, with drop-down menus to minimise the effort required to prepare data when importing loads.


Greater convenience when using the program. New or occasional users in particular benefit from the intuitive usability and will find design examples for each application with detailed descriptions. By dragging files onto the program, the user can easily open files and add designs.


As an authorised distribution partner of Neugart in the UK, HMK supplies and supports their market leading products to a range of customers in the OEM market.
NCP is a popular product with our customers due to the fact it's very user-friendly, and the latest version is no exception. NCP allows users to configure the appropriate combination of motor and gearbox to ensure your application is cost and energy efficient. It's simple to use, with an intuitive interface, making it a popular choice for our OEMs.
HMK's experienced team of engineers can also provide bespoke training for customers to ensure you're getting the most out of the software.
Contact the HMK Team to find out more, or download NCP 4.3 here.
N​eed NCP training?
D​ownload the Neugart NCP training flyer below to find out about upcoming training options.
T​he new functions of NCP, will also be included in an online training session on Tuesday, June 13, 2023 at 3.30pm (CEST) and Thursday, June 15, 2023 at 7.30am (CEST).
To reserve your place, please email Sascha.Saumer@neugart.com or get in touch with the HMK Team.