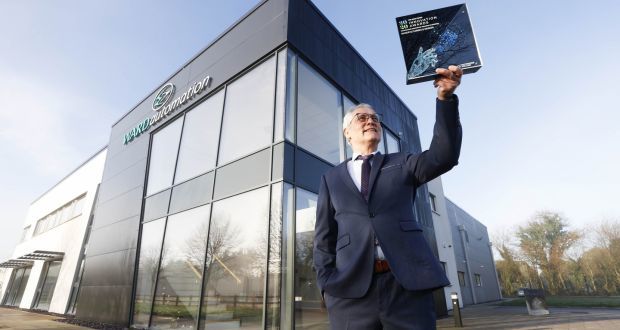 HMK customer Ward Automation has won an Irish Times Innovation Award for their vaccine production machine.

Ward Automation came out on top in the Manufacturing and Design Category after impressing judges with the SP-600 Syringe Inspection Packaging machine – a project HMK supported with parts and our engineering expertise.
Ed Tate, Business Development Manager at HMK Automation, said: "We are absolutely delighted for our customer Ward Automation for their well-deserved win in The Irish Times Innovation Awards.
"Our mission at HMK is to combine the best products in technical innovation with our engineering expertise to deliver success for our customers, so to see Ward Automation recognised in such prestigious sector awards is a fantastic result all round.
"We're very proud to be part of an award-winning project, which delivers so many areas of innovation in automation in a single machine."
John Ward, Managing Director at Ward Automation, added: "We are honoured to win an Irish Times Innovation Award. As innovation is at the core of everything that we do, I am so proud of our team who continue to push the limits of innovative automation."
The SP-600 is a fully automated end of line Syringe Inspection Packaging mahine, which handles 600 syringes per minute.
Pre-filled syringes are a standard feature of the pharmaceutical industry worldwide and Ward's compact, robot-controlled system represents a sea change in how syringes are checked for quality anomalies.
The current checking system is manual, time consuming and visual, and this can lead to human error. By contrast, robots do the job at a rate of 600 inspections per minute with no subjective errors. If there's any question around integrity, the product is rejected and sent for additional checking.
Ward made its initial cell for an existing client that wanted to increase throughput. Adding to the engineering challenge was the fact that meeting the client's requirements for production safety and traceability meant Ward's robot cell had to be capable of being integrated into the company's existing supervisory control and data acquisition system.
Ward used the latest technology from HMK and our partners Siemens and Neugart to deliver visualisation, PLC motion control, servo drive and precision gearbox technology to meet the demanding needs of this pharmaceutical machine.
Read more about how we supported the project here and watch a video of the machine in action.