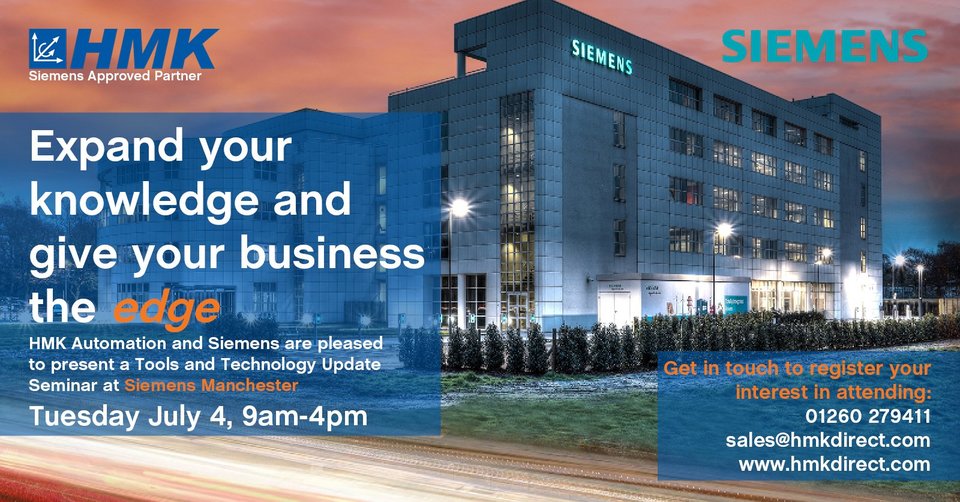 HMK Automation has joined forces with tech giant Siemens to host a tools and technology update seminar for machine builders.
We've been a Siemens distribution partner for over 30 years, so we're pleased to present this exclusive event - Expand your knowledge and give your business the edge – at Siemens Manchester, taking place on July 4 2023.
The full day seminar is tailored for UK machine builders and integrators with a focus on motion control and is designed to add value to you and your business by presenting the very latest products and expertise to help you reduce time to market, increase efficiency and reduce risk.
Gary Kitchin, Managing Director at HMK Automation, said: "We've worked with Siemens for over 30 years and they're at the forefront of innovation, so we can't wait to welcome our customers to this exclusive event where you'll be able to discover the latest tools and technology from Siemens.
"Digital transformation and automation should be the focus of all organisations today, and the ground-breaking technology from Siemens, alongside the expertise of the HMK engineering team, can help you overcome some of those key challenges faced by UK manufacturers.
"If you're a machine builder, OEM or integrator looking to get ahead of the game with the latest tools and technology, then you definitely won't want to miss this."
The agenda for the day includes:
Portfolio innovations, hardware and tools
Standardisation, best practice
How tools and simulation can save OEMs time
Integrating operational and information technology
Industrial Edge
Motion Control implementation case studies
Future drive development
How to secure your place.
This is a VIP invite-only event for UK machine builders, OEMs and integrators.
When: Tuesday, July 4 from 9am to 4pm
Where: Siemens Manchester, Sir William Siemens House, Princess Road, Manchester, M20 2UR
To register your interest to attend, please contact us on 01260 279 411, email sales@hmkdirect.com or visit our Contact Us page.