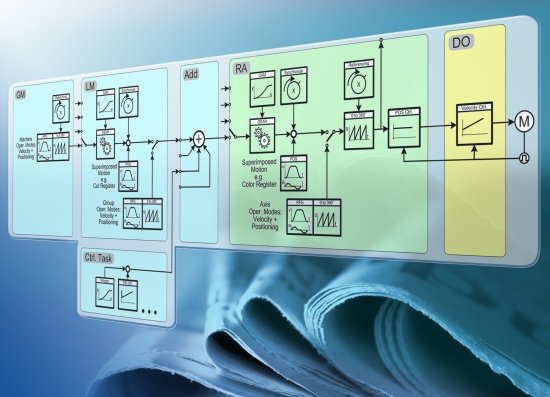 With the first release of the SIMATIC Print Standard for S7-1500(T) from Siemens, it is now possible to realise printing applications within a SIMATIC PLC environment. The SIMATIC print standard builds on the pedigree of the established SIMOTION Print Standard for high performance motion controllers, bringing standardised motion control blocks and operating mode management into the PLC environment. Combined with the many features and benefits that TIA Portal and S7-1500 provides for making the engineering tasks more efficient, the SIMATIC Print Standard provides tried and tested modular motion control functions to achieve both core and advanced printing machine technologies.
The functionality includes concepts such as modular grouping allowing flexible operation of different sections of the machine with support for real, virtual and encoder only axes.Referencing and registration functions are incorporated with support for format variable machines such as flexographic printing, and combined with Technology Modules for the acquisition of registration marks microsecond accuracy can be achieved. The ability to be able to limit or provide additional torque setpoints to the drive system is also supported whilst winder functions are currently in preparation.
The SIMATIC Print Standard for S7-1500(T) is designed to operate with the SINAMICS S high performance drive range using isochronous PROFINET IRT and Dynamic Servo Control DSC. For example when combined with SINAMICS S120, a speed loop closure of 125 microseconds can be achieved providing the level of accuracy and stability required in printing applications. The SINAMICS S120 technology also includes support for high resolution digital DRIVE-CLiQ encoders to reduce disturbance and increase system performance.
HMK has many years of experience of motion control in the printing industry, from MASTERDRIVE and SIMOTION through to the SIMATIC Motion Controllers. If you are looking to implement motion control printing applications within a user friendly, standardised and well supported platform, then HMK and the SIMATIC Print Standard for S7-1500(T) are the answer.