HMK to supply the new Siemens SIMATIC CPU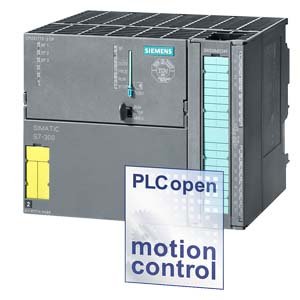 The CPU 317TF-2 DP is used in machines where a control with a large program memory coincides with high processing speed, motion control requirements and Safety Integrated. For the first time it is possible to integrate these functions onto a single Simatic controller.
Typical applications include Palletizers, Carton erectors, Flying shears, Labelling machines and simple gantries with interpolation.
The typical application for motion control functions is for 3-8 axes. The maximum number of axes is 32. Along with accurate single axis positioning, the module is suitable primarily for complex motion sequences such as coupling to form a virtual or actual master, gearing, cam, or print mark correction.
The Safety Integrated functionality is compliant with the relevant standards: EN 954-1 (up to Cat. 4), IEC 62061 (up to SIL 3) and EN ISO 13849 (up to PL e).
As a result of its capacity, the CPU 317TF-2 DP is ideal for the use of SIMATIC Engineering Tools, for example programming with SCL or step programming with S7-GRAPH.
Benefits
Motion, Safety and standard programming in one controller
High performance CPU
PROFIsafe via PROFIBUS DP
Direct control of drive fail-safe functions
Compliance with relevant safety standards
Cost saving through use of one integrated engineering package STEP 7
Failsafe SIMATIC CPU with integral Technology/Motion Control functionality
With full functionality of the standard CPU 317-2 DP and CPU 317F-2 DP
For cross-industry automation tasks in series machine, special machine and plant construction
Ideal for synchronized motion, such as coupling to a virtual/real master, gear synchronization, cam disk or print mark compensation
3D path interpolation with different kinematics
Used as central controller in production lines with central and distributed I/O
Distributed intelligence in Component Based Automation (CBA) on PROFIBUS DP
With integrated I/O for high-speed technology functions (e.g. camming, reference point acquisition)
PROFIBUS DP (DRIVE) interface for isochronous connection of drive components
One common S7 user program for control and motion control tasks (no additional programming language necessary for motion control)
"S7-Technology" option package required
"S7 Distributed Safety" option package required