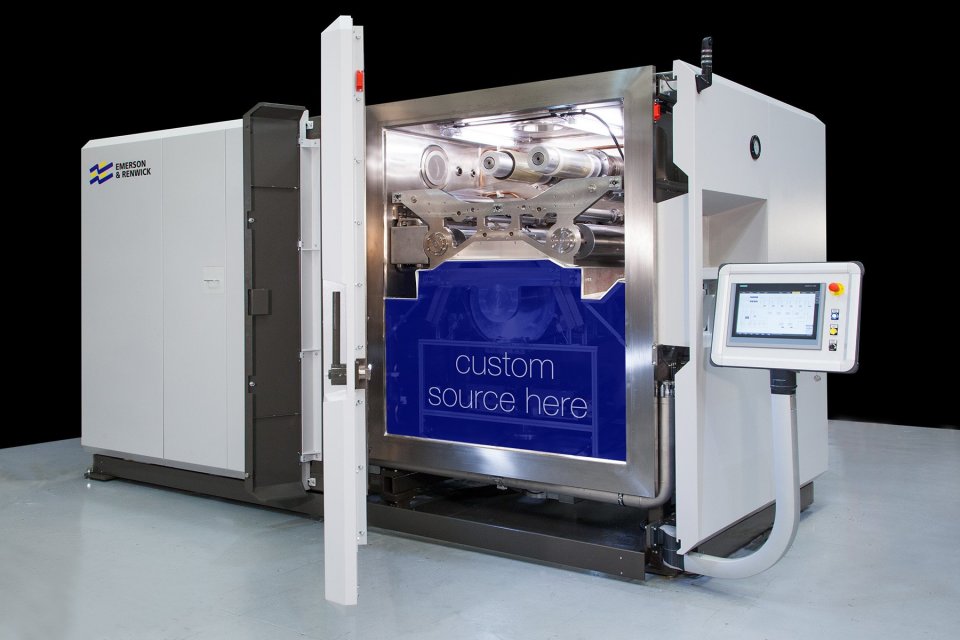 Renowned for innovative engineering and technology solutions, industry leader Emerson & Renwick celebrated its' centenary in 2018. With locations in Lancashire, USA and China the company continues to expand, designing, manufacturing and installing advanced machinery for the vacuum deposition, wallcovering, automotive/heat exchanger, coating/laminating markets.
When Emerson & Renwick were looking for a controls partner for their revolutionary Genesis Vacuum Coater, HMK Automation Group was the partner selected ahead of the competition.
Gary Kitchin, MD at HMK comments "At the heart of the flexibility and success of the Coater is the accuracy of the control, more over the ability for accurate speed and torque control in handling the substrates, some of which can be very sensitive in regard to tension and surface damage. A very high performance Siemens SIMATIC CPU was selected due to its very low cycle time and its integrated safety functionality. The controller selection is vital but provides no guarantee of motion performance in its own right. The selection of a Siemens SINAMICS high performance servo drive system coupled with Siemens SIMOTIC direct drive motors with high resolution feedback provided best in class product across all the key elements of the control system."
Emerson & Renwick were looking for a successful implementation of a control solution for their innovative machine. The GENESIS series of Vacuum Coater is a disruptive technology being supplied around the world to blue chip companies. It is designed to provide a flexible vacuum deposition and web handling platform for the development and commercialisation of flexible products and devices. Choosing the right products was essential, but more important to the success of this project was identifying a partner with the engineering expertise and experience to specify, apply and support the 'total solution' and not just on a product basis.
David Wilkinson, Purchasing Manager at Emerson & Renwick adds "We have worked with HMK for over 15 years, this was a landmark project in taking our relationship to the next level, one where innovative products are a given, supported throughout the project lifecycle with engineering expertise to deliver a successful result."