The functional scope of the SINAMICS S210 focuses on highly dynamic motor axis control, while the connected controller, for instance the Simatic S7-1500 or S7-1500T with its extended motion control functionality, takes complete charge of positioning functions for the connected drive axes.
The inverter is commissioned entirely using an integrated web server. The one-button tuning function allows automatic optimization of control parameters, taking into consideration the behavior of the connected mechanics by different dynamic levels. The integrated safety functions include STO (Safe Torque Off) and SS1 (Safe Stop 1). Both can be actuated using PROFIsafe, STO additionally using a terminal.
Additional functions are currently in the preparation stage. In conjunction with the rapid sampling and smart control algorithms of the Sinamics S210, a high-grade encoder system and the combination of low rotor inertia and high overload capability, the servo motors achieve outstanding dynamic performance and precision. Siemens will be showcasing the relevant motors in shaft heights of 20, 30 and 40 millimeters at the Hannover Messe at the end of April 2017.
By using the Motion-Connect OCC to connect the Simotics S-1FK2 motors to the inverters, the power
conductors, encoder signal and brake are grouped together in an exceptionally thin cable measuring just 9 millimeters in diameter, and use a single plug. Its minimal cross-section makes the OCC cable thinner, lighter and more flexible than previous power cables, considerably simplifying the cabling process.
For drag chain applications, there is also a compact one cable connection available which reduces the bending radius to almost half compared to conventional drag chain conductors. The connecting plug comes in a rugged design despite being rotatable and easy to operate at a height of 25 millimeters. Cabling at the converter is just as simple with benefit of user-friendly self-locking plugs and easy-access detachable push-in terminals on the front.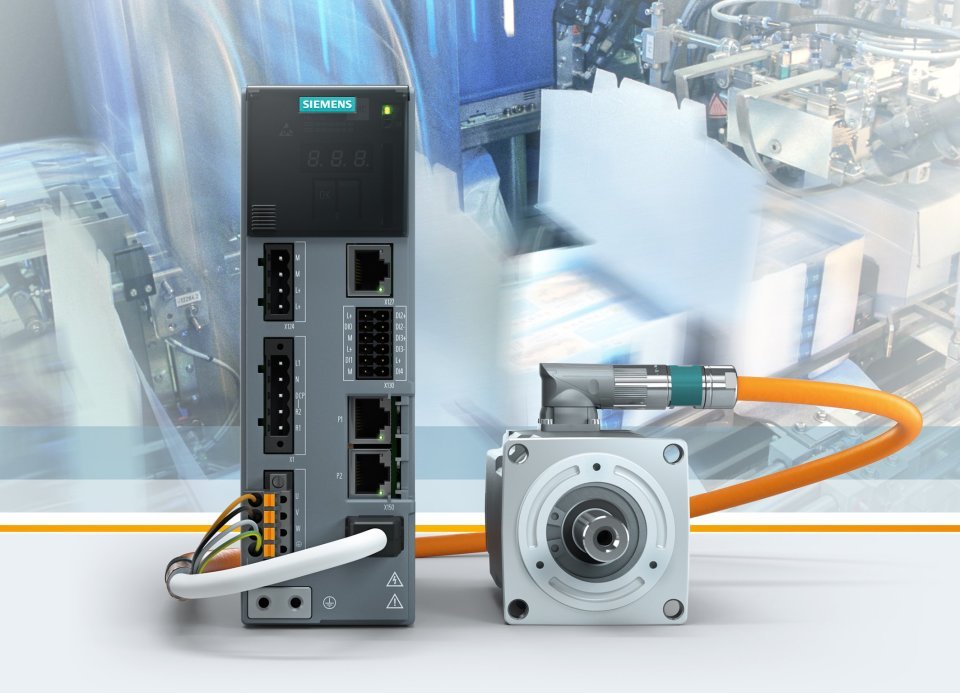 If you would like more information on the new Siemens S210 Servo Drive System, please give us a call on 01260 279 411. Alternatively drop us an email on enquiries@hmkdirect.com