New inverter modules for pumps, fans and compressors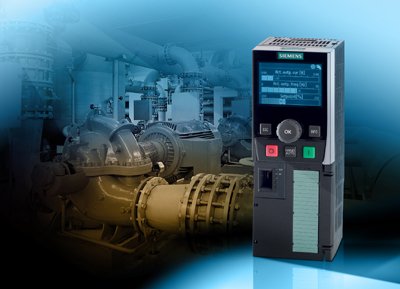 Now available from HMK Automation & Drives is the new Siemens Control Unit CU230P-2 for the Sinamics G120 frequency inverter series which is especially designed for use in applications using pumps, fans and compressors. The software includes a digital real-time clock, a hibernation, a flying restart and a PID controller module. The I/O and fieldbus interfaces such as Modbus RTU, CANopen, USS and Profibus have been fully adapted to the requirements of these applications. The CU230P-2 benefits from simplified engineering via an integrated USB interface and can be operated with the new IOP (Intelligent Operator Panel). The integrated MMC card and so-called clone functionality enable data to be transferred easily from one drive to another. The new Control Unit permits the direct control to shut off valves without the need for any extra external components.
The Control Unit is designed to facilitate the connection of an extensive range of temperature sensors. Sinamics G120 inverters can now be extended by an additional module: namely, the Control Unit CU240S DP-F which is specially made for applications in the chemical industry. This module meets the NAMUR standards in every respect and includes an ATEX-certified PTC evaluation function. This new Control Unit is an integral part of the modular-design Sinamics inverter series and can be used in combination with all available Power Modules, including those variants with energy-saving regenerative feedback capability. Equipped with the new PM240 Power Module in frame size GX, the Sinamics G120 inverters are now available with a power output of 250 kW. The new variant of Power Module has regenerative feedback capabilities, the PM250 without sine-wave filter also makes it possible to realize cost-effective solutions with integrated energy recovery in regenerative mode. This variant is designed for a power range from 18.5 kW to 90 kW.
For more information contact us on 01260 279 411