When lubricating rack and pinion drives by means of a felt gearwheel and electronically controlled lubricator the optimal grease supply can be seen from the diagram below: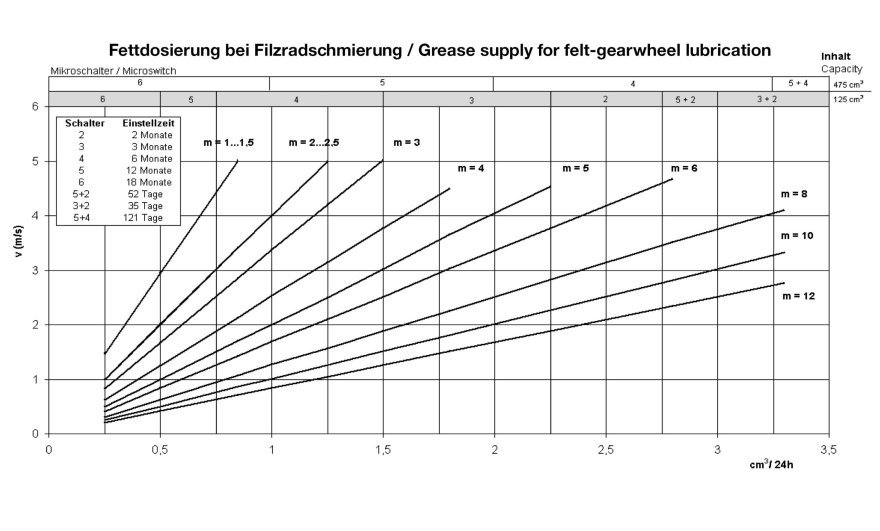 Example:
A toothed-rack gear unit m=2 with a travelling speed of v=1.5m/s shall be lubricated with an electronically controlled lube dispenser via a felt gearwheel with Klüber Structovis AHD. The following parameters are to be considered:
- The grease supply from the lube dispenser to the felt gearwheel runs through a hose which is 600 mm long.
- The lube dispenser shall be synchronised with the machine.
- Ambient temperature 10°C.
According to the grease dosage diagram for felt gearwheel lubrication, the dosage for this type of drive is approx. 0.35 cm 3 of grease. The actually needed amount of lubricant, if the described parameters are considered, can be calculated as follows:
0.35 x 1.16 x 1.25 x 1.5 = 0.76 cm³
According the chart "setting combinations for lube dispensers" (see operating instruction for ATLANTA lubrication system BKI 102) the lubricant quantity of 0.7 cm³ will be chosen by DIP switch position no. 4.
Magnetic sensor for empty condition. Besides the possibility to operate the lubrication system via an external power supply, by powering a magnetic sensor it is possible to send a message of the end position (empty condition). A yellow LED will be sent directly to the sensor or externally to a signal transmitter of your control unit.