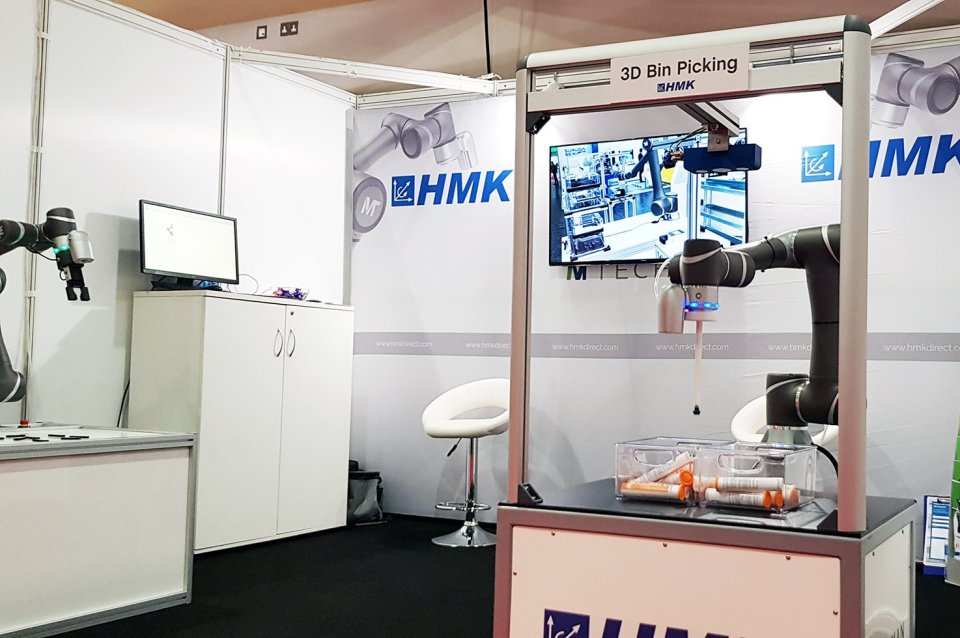 HMK Automation Group has just returned from the Robotics & Automation show in Milton Keynes. Introducing the only Robotics exhibition aimed solely at end users, the exhibition offered visitors the opportunity to discover how the latest robotics, automation and future technologies can improve efficiency, reduce costs and give them the competitive advantage. Nick Calow, Chief Technology Officer at HMK comments "It was a really well attended event, very exciting for HMK as we were showcasing our TM5 Cobot using 3D vision to perform a bin-picking task that would be impossible to automate with less advanced machines." Nick adds "the level of interest was huge with some really interesting enquiries for a broad variety of automation applications."
Leading supplier of world-class products, HMK continues to spearhead innovation with the introduction of the most advanced range of collaborative robots ('Cobots') pushing the boundaries of what's possible in automation and implementing the future of Industry 4.0 today.
The new Collaborative robot from TECHMAN merges systems that usually function separately in conventional robots. The TM range of Cobots features simple programming, innovative integrated vision capabilities together with the latest safety functionality, all leading to rapid deployment in a huge variety of applications.
For more information visit https://www.hmkdirect.com/products/robotics/collaborative-robots/